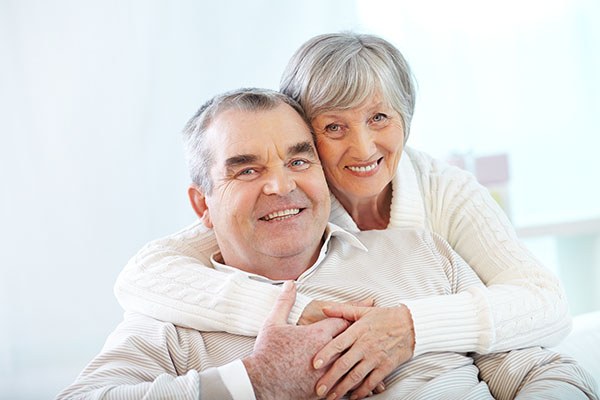 If you have lost one or several teeth, visit our Fort Washington dentist office for dental implants. James E Sullivan DDS can provide you with this durable replacement solution. Implants are popular in part because they are entirely natural-looking. To find out if you qualify for this procedure, call (301) 248-8080 to schedule a consultation with our 20744 office.
Here are 7 Reasons to Replace Missing Teeth With Dental Implants:
#1 – Implants Replace Your Missing Root Structure
To place implants, oral surgery is performed. In this procedure, a titanium post is surgically implanted under your gums and secured to your jawbone. In time, your bone and the post will fuse together through the process of osseointegration. This creates a new root system that the tooth portion of your implant can be attached to.
#2 – Dental Implants are as Strong as Your Natural Teeth
Due to osseointegration, your dental implants will be as strong as your natural teeth. You will have the same biting power as you did before and the ability to enjoy a nice thick steak or a crunchy salad, without wondering if your teeth are up to the challenge. This is a far cry from dentures that may or may not stay in place when eating food that requires significant chewing.
#3 – They Do Not Rely on Any of Your Surrounding Teeth
When replacing teeth with a dental bridge or partial dentures, some of your other teeth are impacted. Whether crowns are placed around them or metal hooks and brackets attached to them, these solutions cannot remain in your mouth independently. As a result, your other teeth are altered or impacted unnecessarily. Since dental implants are placed using oral surgery, they derive their strength from your jawbone instead.
#4 – Implants Look Like Real Teeth
James E Sullivan DDS creates implants that are the same shade, shape, and size as the surrounding teeth. They look so natural, most of our Fort Washington, MD patients cannot tell the difference between natural teeth and implants once the procedure is finished.
#5 – They Are Easy to Care For
When you get dental implants from our 20744 dentist office, you will be receiving a solution that is cared for in the same way your other teeth are. All you need to do is brush and floss, eat a healthy diet, and have your teeth cleaned professionally twice a year. No additional solutions or cleaning steps are required.
#6 – Dental Implants Will Preserve Your Facial Structure
When you lose teeth, the stimulation the jawbone was receiving is gone. This signals the body that the jawbone is no longer functioning like it should, which starts the process of resorption. This is where calcium is leached from the jaw for use elsewhere. As a result, the facial structure starts to change, essentially shrinking. Implants provide this missing stimulation, preventing significant resorption and changes to facial structure.
#7 – They Are Long-Lasting
There is no time limit for how long implants can last. As long as you take care of them and remain in excellent oral health, they can last for the rest of your life. This makes them a better long-term solution than dentures or a dental bridge.
To learn more about dental implants oral surgery, call (301) 248-8080 and schedule an appointment with James E Sullivan DDS. From our Fort Washington, MD dentist office, we can provide you with more information, show you the differences between this procedure and dentures, and determine if you are a good candidate for this long-term solution.
---
Recent Posts
October 16, 2018
From chewing to speaking, teeth play an important part in one's daily life. In the past, there were only a few treatment options for missing teeth. With the advancements in dental technology, people can now …
---